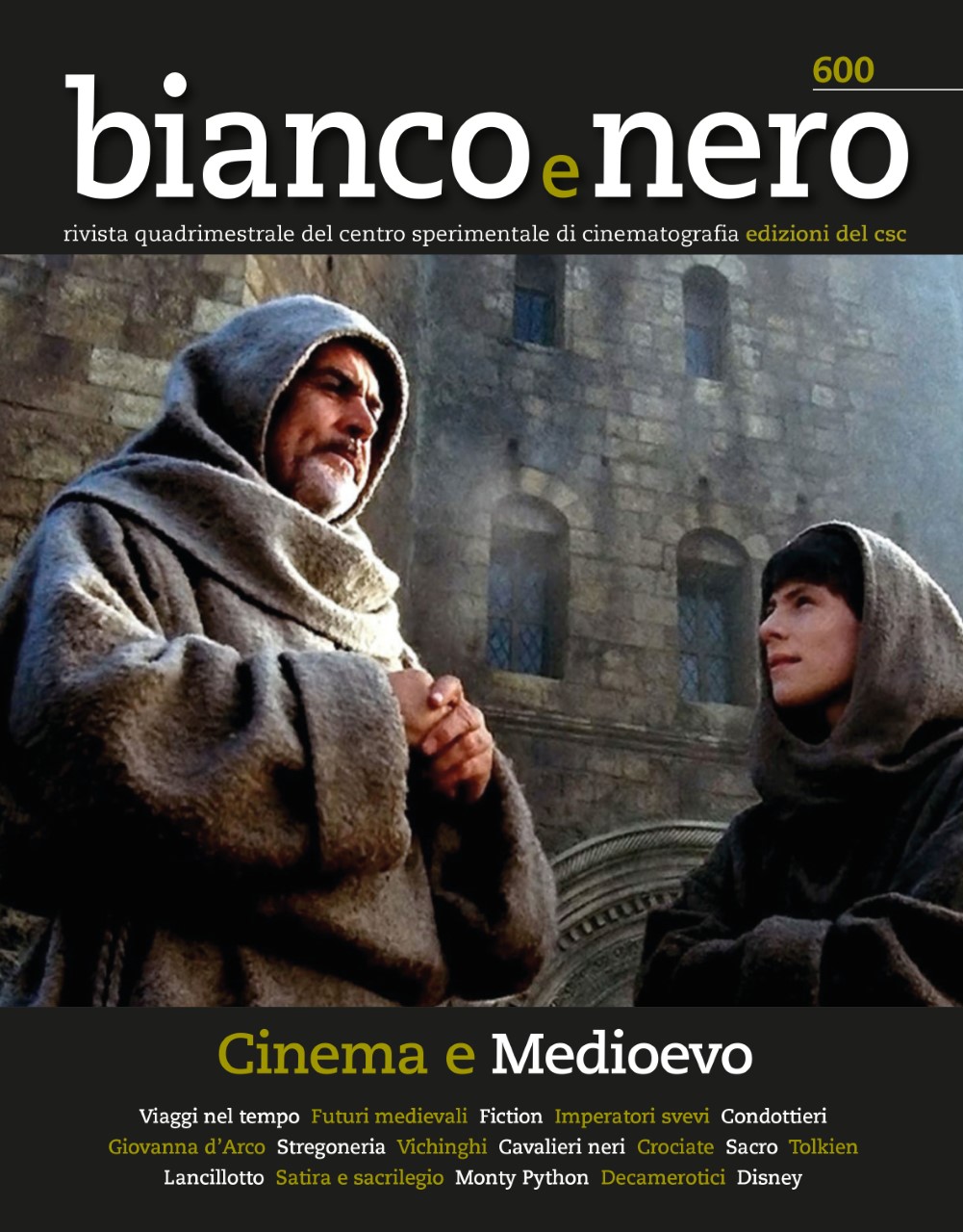 Cinema e Medioevo
A special Issue of «Bianco e nero: rivista quadrimestrale del Centro sperimentale di cinematografia», Vol. 82, Iss. 600 (2021 May-Aug)
Author: Franco Cardini, Riccardo Facchini, Davide Iacono (edited by)
Year: 2021
Pages: 176
Publisher: Centro Sperimentale di Cinematografia; Sabinae
ISBN: 9791280023216
€ 18,00
Description
Although medieval settings and themes are often confined to a political perspective – sometimes turning the Middle Ages into a political metaphor – this simply cannot constitute the only interpretation of the "medievalist" film  genre. This issue of "Bianco e Nero" attempts to provide the broadest and most diverse overview on this topic.
Author notes:
Franco Cardini è professore ordinario di Storia medievale presso l'Università di Firenze, e come giornalista collabora alle pagine culturali di vari quotidiani.
La sua produzione di saggi storici è molto vasta. Tra questi ricordiamo L'avventura di un povero crociato (Mondadori, 1998), Giovanna D'Arco (Mondadori, 1999), I Re Magi. Storia e leggende (Marsilio, 2000), Il Medioevo (Giunti Junior, 2001), Carlo Magno. Un padre della patria europea (Laterza, 2002), Europa e Islam. Storia di un malinteso (Laterza, 2002), Astrea e i Titani. Le lobbies americane alla conquista del mondo (Laterza, 2003), Il Barbarossa (Mondadori, 2006), Lawrence d'Arabia (Sellerio, 2006), La vera storia della Lega Lombarda (Mondadori, 2008), I templari (Giunti, 2011), Gerusalemme. Una storia (Il Mulino, 2012) Alle origini della cavalleria medievale (Il Mulino, 2014), L'appetito dell'Imperatore. Storie e sapori segreti della Storia (Mondadori, 2014), Il califfato e l'Europa. Dalle crociate all'ISIS: mille anni di paci e guerre, scambi, alleanze e massacri (UTET, 2015), Un uomo di nome Francesco. La proposta cristiana del frate di Assisi e la risposta rivoluzionaria del papa che viene dalla fine del mondo (Mondadori, 2015), Onore (Il Mulino, 2016), I Re Magi (Marsilio 2017), e La pace mancata (Mondadori 2018).
Riccardo Facchini, dopo la laurea magistrale, conseguita nel 2010 presso la Sapienza Università di Roma, consegue il dottorato di Ricerca in Storia della Civiltà Europea presso l'Università Europea di Roma, con una tesi sui rapporti diplomatici tra Venezia e il mondo islamico nel basso Medioevo. Dedica la sua attività di ricerca anche allo studio dei medievalismi, in particolare all'utilizzo di tematiche medievali nel pensiero cattolico e politico tra XX e XXI secolo. Ha curato- insieme a Tommaso di Carpegna Falconieri - il volume Medievalismi Italiani (secoli XIX-XXI (Gangemi 2018). È membro della segreteria organizzativa del Centro Studi e Ricerche sul Medievalismo dell'Istituto Storico Italiano per il Medioevo, ricercatore freelance e collaboratore del mensile «Medioevo».
Davide Iacono consegue la laurea magistrale alla Sapienza Università di Roma, con una tesi sul medievalismo, con particolare attenzione allo studio delle fonti medievali nel pittore preraffaellita Edward Burne-Jones. E' collaboratore della rivista il «Medioevo» e fa parte del Centro Studi e Ricerche sul Medievalismo dell'Istituto Storico Italiano per il Medioevo. La sua attività di ricerca si concentra sui rapporti tra ventennio fascista e medievalismo, specialmente sull'uso delle figure dei condottieri rinascimentali compiuto dalla propaganda fascista; su questo tema ha scritto Condottieri in camicia nera: l'uso dei capitani di ventura nell'immaginario medievale fascista in Medievalismi italani (secoli XIX-XXI) (Gangemi 2018) e Les condottieri italiens dans le cinema de propaganda fasciste, «Práticas da História Journal on Theory, Historiography and Uses of the Past», 12, 2021.