Directors, Screenwriters, Playwrights
Archival and Bibliographic Collections – Luigi Chiarini Library
The printed archive was donated by Andreassi's children in 2018. It comprises more than two hundred and fifty documents including various scriptments, treatments and screenplays, several of which pertain to television programs. There are also thirty-seven files containing projects, ideas, notes, articles, letters, administrative documentation, contracts and press reviews of his work. The film archive has been housed in the Cineteca Nazionale since 2000.
Raffaele Andreassi (1924 – 2008) – Journalist, director, screenwriter, photographer, artist and poet. Since 1948 he collaborated with various newspapers from "Giornale del Mattino" to "Fiera Letteraria" and also wrote a series of poems that have been published in the collection "Paesi nel cuore" (Cappelli, 1959). In 1950 he began directing short films and documentaries. His filmography includes few narrative feature films, but almost two hundred short and medium-length films, of which more than fifty are art documentaries. For television, in addition to some episodes of "Carosello", he directed about thirty journalistic reportages and documentaries. His most significant works include the documentary Antonio Ligabue pittore (1965) and the films Flashback (1969) and I lupi dentro (1999). He also worked extensively for Rai, shooting investigative reports, series and pieces for various programmes.
The Lucio Manlio Battistrada collection, donated by his son Duccio in 2018, features documents that span over forty years of his prolific career as a screenwriter and writer, as well as his involvement in politics. It includes thousands of items, such as notes, drafts, outlines, scriptments, screenplays and treatments, some of which have never been published before and others from well-known films he worked on, including L'oro di Roma (1961) by Carlo Lizzani, Macchie solari (1975) by Armando Crispino, Gott mit uns (Dio è con noi) by Giuliano Montaldo (1970) and Il delitto Matteotti  (1973) by Florestano Vancini. The archive also features various rewrites of the same screenplay, thus highlighting the different stages of the creative process that leads up to the final version. In addition, there are fifteen files containing: letters, contracts, writings, press clippings, lectures from his scriptwriting courses, prep material for television programmes and the Alfa Romeo car commercial, as well as various documents relating to his participation to associations, festivals, events and seminars and to his political activity. Since the 1980s, Battistrada dedicated himself to the study of anthropology, which, along with the many texts he produced on the subject, also led to the writing of an unpublished essay, "Homo Sapiens", of which the collection includes various handwritten and typewritten drafts.
Lucio Manlio Battistrada (1920 – 2017) –  also known as Lucio Battistrada, cinema and television screenwriter and writer, he worked hand in hand with directors: Carlo Lizzani, Armando Crispino, Giuliano Montaldo, Florestano Vancini. His filmography, which ranges from drama to comedy, from westerns to war films, from detective stories to thrillers, includes: the scriptment for Il principe ribelle (1947) by Pino Mercanti; the screenplay for Il sole negli occhi (1953) by Antonio Pietrangeli, the scriptment and screenplay for L'oro di Roma (1961) and the screenplay for Requiescant (1967) by Carlo Lizzani; the scriptment and screenplay for I fuorilegge del matrimonio (1963) by Paolo and Vittorio Taviani, Valentino Orsini; the scriptment and screenplay for Gott mit uns (Dio è con noi) by Lucio Manlio Battistrada and Fernaldo Di Giammatteo (1964); the scriptment and screenplay for Una bella grinta (1965) and the screenplay for Gott mit uns (Dio è con noi) by Giuliano Montaldo (1970); the scriptment and screenplay for Il nero (1966) by Giovanni Vento; the scriptment and screenplay for Rififí ad Amsterdam (1966) by Sergio Grieco; the screenplay for Uno straniero a Paso Bravo (1968) by Salvatore Rosso; the scriptment and screenplay for Il delitto Matteotti (1973) and the screenplay for Un dramma borgese (1974) by Florestano Vancini; the scriptment and screenplay for John il bastardo (1967), the screenplay for Commandos (1968), the scriptment and screenplay for L'Etrusco uccide ancora (1972), the screenplay for La badessa di Castro (1974) and Macchie solari (1975) by Armando Crispino; the scriptment and screenplay for Un ragazzo di borgata (1976) by Giulio Paradisi; the screenplay for Augh! Augh! (1980) by Marco Toniato; the screenplay for Morte in Vaticano (1982) by Marcello Aliprandi; the scriptment for the TV series La Piovra (1984) by Damiano Damiani; the scriptment and screenplay for the TV series Silvia è sola (1988) by Silvio Maestranzi; the screenplay for the TV series Appuntamento a Trieste (1988) by Bruno Mattei; the screenplay for La sposa era bellissima (1986) by Pál Gábor.
The collection includes 48 monographs and books with press cuttings, plus 200 loose newspaper cuttings.

Alfredo Bini (1926-2010) – Special Administrator for the Centro Sperimentale di Cinematografia (Experimental Film Centre) from 1994 to 1995; he is known for having produced some of Pier Paolo Pasolini's most famous masterpieces, such as "Accattone" and "Mamma Roma".
The collection includes 25 original scripts and synopses by Fabio Carpi.

Fabio Carpi (1925-2018) – Scriptwriter, and film and television director. Before leaving for Brazil, where he worked on films for Luciano Salce, such a: "Uma pulga na balança" (1953), he was a reviewer for the newspaper «l'Unità». He returned to Italy to write scripts for films by Antonio Pietrangeli, Nelo and Dino Risi, and Vittorio De Seta. He co-authored scripts with Zavattini, Malerba and Continenza. One of the films he worked as a scriptwriter for was "Bronte: cronaca di un massacro" by Florestano Vancini 1972. He directed "Corpo d'amore" (1973), "L'Età della pace" (1974) and "Quartetto Basileus" (1982), to mention a few.
This collection of synopses, treatmets, screenplays, articles and short scripts was donated by Alfredo Baldi. Even though the collection acquired by the library, it is nevertheless of great importance in the field of cinema studies. It consists of the original typescripts for successful films such as "I due marescialli", "La fortuna di essere donna", "Totò Le Moko" and others. However, there are also some totally unreleased screenplays, which were never made into films. Other typescripts, whose attribution to Continenza is still disputed, have been added to this collection and, as a matter of fact, they are often not mentioned in reputable bibliographic sources.

Sandro (Alessandro) Continenza (1920-1996) – He was a journalist for the "Marforio", the "Marc'Aurelio" and other humorous publications and was one of the most prolific writers of the Italian cinema. He excelled at writing Italian-style comedy and comic farces in general, but he also wrote successfully for the historical and mythological genres. He worked with directors like Blasetti, Steno, Camerini, Mattòli and Mastrocinque, and became well-known for writing the screenplays for many films starring Totò and Alberto Sordi. He also worked in Spain and France, where he became involved in art-house cinema, collaborating with Claude Sautet and Pierre Granier-Deferre.
The collection, which was donated by his wife Liliana Fontana, includes over 200 short stories, screenplays, treatments, synopses and 16 files of  correspondence, contracts, poems, handwritten notes, reviews and various documents, and 231 monographs and magazines.
Fabio De Agostini (1933-2009) – Italian-Swiss screenwriter, writer and director. In 1968, De Agostini began collaborating with the Swiss state radio and TV broadcaster. He was the mind behind many stories, TV adaptations and radio plays, devoting himself to radio adaptations of Swiss and Italian classics. He wrote forty original stories, where he poured all his creativity and irony. His long-standing radio experience also led him to take up the direction of some of his own texts including "Lauta Mancia" (1957), "Belle d'Amore" (1970) and "Le lunghe notti della Gestapo" (1977).
The collection was donated in 2012 and consists of 208 text items: screenplays, synopses, adaptations, theatre scripts, monographs, press review collections, press books and a file of letters.
Ennio De Concini (1923-2008) – Scriptwriter, film director, comedy writer and philosophy graduate, He devoted a lot of his time and efforts to journalism, mainly writing for the «La Fiera Letteraria» magazine. After working as Vittorio De Sica's assistant director in "Sciuscià" (1946), he started working as a screenwriter. In 1960 he was awarded a Nastro d'Argento for "Un Maledetto Imbroglio" (1959) by Pietro Germi and received another Nastro d'argento award in 1962 for "Divorzio all'Italiana" (1961), once again directed by Germi, which also won him an Oscar for best screenplay in that same year. A particularly prolific writer, he wrote more than two hundred screenplays for the most important Italian and international film directors, applying his talents to various genres, from historical-mythological to melodrama and Italian-style comedies.
The collection was donated by his daughters Daniela and Carola in 2019. There are about forty items: scriptments, treatments, scripts, theatre scripts, many of which are handwritten and previously unpublished, and two pressbooks. These include, in particular, the scriptments of "Uomini e cielo" and "Il mulatto", and the scripts of "Gli amanti di Ravello" and "Uomini ombra". Several of these projects were never realized, such as the scripts "Oa-Mon", "Cagliostro", "Guglielmo Marconi", many scriptments like "Il tempo felice", "Cielo stellato", "La corda del coltello", "Stelle alpine", and the pressbooks of "Carica eroica" and "Mizar". The donation also features five of his original drawings, notably three sketches for the stage costumes of the characters of the theatre production "Hàtama" (1936), which he also directed, eleven photographs of his drawings, as well as a camera from the 1930s, the Voigtländer Superb Reflex.
Francesco De Robertis (1902-1959) – Director, screenwriter and scenarist. A Royal Navy officer by profession, he also devoted himself to cinema focusing on wartime stories and asserting himself as one of the pioneers of Neorealism. He began his artistic activity in theatre during the 1930s, when he was involved in the production of four of his eight dramas, "La pagina degli scandali", "La luce sul fondo", "Civiltà" and "Hàtama", but later on he developed a thorough enthusiasm towards cinema. In the 1940s he was appointed head of the Ministry of the Navy's film centre, whose creation he personally supported and whose aim was to produce works that would raise the morale of the Army after the disappointing outcome of the war campaigns in Albania. He made his debut with the short film "Mine in vista" (1940) and in 1941 he directed the feature film "Uomini sul fondo", exclusively starring officers, non-commissioned officers and crews of the Royal Navy, as did his later works. In the same year he also supervised "La nave bianca" , which was directed by Roberto Rossellini (historically very controversial role). His later works, "Alfa Tau!" (1942), "Uomini e cieli" (1946), La vita semplice" (1946), "Marinai senza stelle" (released in 1949), are a testament to the straightforward quality of the inspiration of this captain-director, who was very aware of and focused on the human dimension of the events he portrayed. After he retired, during the post-war period he worked on "Fantasmi del mare" (1948), "Il mulatto" (1950) and "Carica eroica" (1952), Mizar (1953), Uomini ombra (1954).
The main bulk of the collection consists of 176 items, including scripts, synopses and original treatments (many of which are hand-written) of both produced and unproduced films. There is also an archive of private of correspondence that the director received from the 1940s until the end of his life. There are letters, postcards and telegrams from friends, actors and directors (among them Raf Vallone, Serge Reggiani, Carlo Lizzani, Gillo Pontecorvo, Bertolt Brecht and Joris Ivens) and also many Italian and foreign intellectuals whom he met and befriended in the course of his long and varied artistic career, such as Libero de Libero, Pietro Ingrao, Georges Sadoul and Jorge Amado.
Giuseppe De Santis (1917-1997) – Film director and scriptwriter. He graduated in Film Direction at the Centro Sperimentale di Cinematografia and was a prolific contributor of the «Cinema» magazine. Since the 1940s he became involved with a group of antifascist intellectuals who will become political activists of the PCI (Italian Comunist Party). After a number of collaborations with Luchino Viscontiande Roberto Rossellini, he finally made his debut as a movie director in 1948, filming some of the most important productions of the Italian neorealist movement, such as "Caccia tragica" (1947), "Riso amaro" (1949), "Roma ore 11" (1952). He also was a long-standing professor of Film Direction and Acting at the Centro Sperimentale di Cinematografia.
It features seventy-two typewritten documents, including scriptments, screenplays and treatments, some relating to films that were never produced, while others come with handwritten notes and alternative endings. The collection complements the hundred or so titles that are already in the library's possession. Outstanding among these are the screenplays written in collaboration with directors: Alberto Lattuada for La cicala (1979); Elio Petri for the unfinished project Chi illumina la grande notte (1980); Carlo Vanzina for Sotto il vestito niente. L'ultima sfilata (1988); Peter Del Monte for Etoile (1989); Claudio Bonivento for Altri Uomini (1997); Dario Argento for Occhiali neri (2002).
Franco Ferrini (1944) – Italian screenwriter, director and writer, made his debut in the film industry in 1972 when he starred in the film Le notti peccaminose di Pietro l'Aretino (Mario Scarpellini). He then went on to write the screenplays for Poliziotti violenti (Michele Massimo Tarantini, 1976), Enigma rosso (Alberto Negrin, 1978), La cicala (Alberto Lattuada, 1980), Io, Chiara e lo Scuro (Maurizio Ponzi, 1983) and Acqua e sapone (Carlo Verdone, 1983). In 1984 he shot to international fame when he co-wrote, with Sergio Leone, C'era una volta in America, starring Robert De Niro. In the same year, with the film Phenomena, he began his partnership with Dario Argento, which has since continued for most of his works from Opera (1987) to Black Glasses (2022). He wrote Demoni (1985) and Demoni 2 (1986) by Lamberto Bava in partnership with Dardano Sacchetti, and, once again with Argento, the film La chiesa (Michele Soavi, 1989); he also wrote the script for Soavi's Arrivederci amore, ciao (2005). In 1987 he directed a thriller on prostitution, Caramelle da uno sconosciuto. He further explored the thriller genre by co-writing Sotto il vestito niente (1985), Squillo (1996) by Carlo Vanzina and Occhi di cristallo (2004) by Eros Puglielli. His filmography also includes several comedies: in addition to the aforementioned Acqua e sapone, it is also worth mentioning Vacanze di Natale '90 (1990), Fratelli coltelli (1997) by Maurizio Ponzi, Un bugiardo in paradiso (1998) by Enrico Oldoini. His TV work includes the series Benedetti dal Signore (2002), O la va, o la spacca (2004) by Francesco Massaro and Il giudice Mastrangelo 2 (Enrico Oldoini, 2007). He also teaches screenwriting courses at the Sentieri Selvaggi School of Cinema and writes for the eponymous magazine.
The collection is made up of over four hundred items, among which are synopses, scripts, radio dramas, novels, short stories, including many drafts and a collection of his magazine articles.
Massimo Franciosa (1924-1998) – Author, scriptwriter, director and playwright; he was an assistant at the University of Rome and worked as a journalist and freelance writer for various magazines, including «Il Momento », «Il lavoro illustrato » and «La Fiera letteraria». He made his debut in the film industry with the story and script of "Gli Innamorati" (1955) by Mauro Bolognini, written in cooperation with Pasquale Festa Campanile, which was the first example of a long partnership; after this came other collaborations with famous movie celebrities, which gave birth to the scripts of successful movies such as "Poveri ma belli" (1956) by Dino Risi, "Giovani mariti" (1958) by M. Bolognini, "Rocco e i suoi fratelli" (1960) by Luchino Visconti, "Le quattro giornate di Napoli" (1962) by Nanni Loy, "Il Gattopardo" (1963) by L. Visconti and the musical comedy "Rugantino" written by Garinei and Giovannini in 1962. Later on Franciosa directed a few romantic comedy films: "Il morbidone" (1966), "Pronto, c'è una certa Giuliana per te"(1967), "Quella chiara notte d'ottobre" (1974).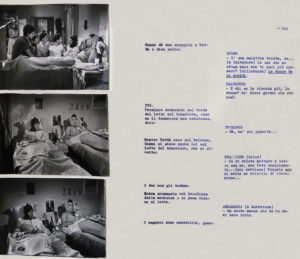 The collection was purchased and includes various types of material created and edited by Gherardo Gherardi. It consists of various articles on cultural matters and journalistic reviews published by the writer during his career; manuscripts, typescripts and printed versions of plays, translations and summarized versions of theatre pieces. There are also many film synopses, a few written in collaboration with Carmine Gallone, Nunzio Malasomma and Nino Besozzi.
Gherardo Gherardi (1891-1949) – Playwright, scriptwriter and translator.
The collection was donated by his heirs to CSC in 2012. It consists of his personal library, which contains over 1,300 books – including valuable first editions from the 17th and early 19th centuries – about pedagogy, literature, poetry, fiction, oratory and also rare magazines. Furthermore, there are theatre pieces and their transcripts (several by Eduardo Scarpetta, Luigi Chiarelli and Giuseppe Giacosa). It also features archive documents concerning his work activity for the Filodrammatica "Fiamma" of Naples and his didactic work at the Scuola d'arte cinematografica (School of Cinema), first drafts of his articles and essays and notebooks with handwritten notes about his film and theatre activity. The photographs are available at the Photo Library.
Oreste Gherardini (1871-1953) – Film director, screenwriter, stage and film actor. He was a prolific writer of silent moves; worth mentioning, among his vast production, are the short movies "Fedra" (1909), "Il mistero di un passaggio segreto"(1913),"Sacrificio" (1913), "Farlalla d'oro" (1916), "Turbine rosso" (1916). He was head and teacher of the Filodrommatica Fiamma and the Scuola d'arte cinematografica (School of Cinema) of Naples, as well as director of the Volsca film studio.
This collection of bibliographic and archive documents records the long-running career of this couple of directors. The material was donated by the couple in 2013 and encompasses their whole careers, from the experimental work of the 1960s at the CCI (Cooperativa Cinema Indipendente), their Videobase films (a collective founded in 1971 by the two directors and Alfred Leonardi), the material they filmed for Rai's Experimental Service, the videos for "La Zattera di Babele", Carlo Quartucci theatre group, to the Rai's Liguria's shows of the 1980s. The documents are divided into 45 files and are very diverse: there are synopses, brief reports, editing summaries with time codes, notes and reports used during the preparation of short films, reports and work notes (also concerning those projects that were never fulfilled), research material, comments and technical and political analyses. The folder of mail written and received by the two directors is considerable. There are letters concerning the Cooperativa Cinema Indipendente, letters sent to the Videobase collective by a number of cultural institutions (mainly the Deutscher Akademischer Austauschdienst – DAAD of Berlin and Franco Serantini's Circolo Politico in Bologna) but the bulk of it is made up of letters and postcards from friends and personalities from the world of cinema and culture such as Alfredo and Silvana Leonardi, Massimo Bacigalupo, Enzo Ungari, Mario Ferrero and Gregory J. Markopoulos, which also give us a glimpse into their private lives. The collection is completed by documents relating to their involvement in many festivals such as those in Pesaro, Rotterdam, Berlin and Bellaria as well as film club reviews and a large press release collection gathered over the years. The collection includes approximately 50 monographs and film magazines.
Romans by adoption, work and life partners, Anna Lajolo (1931-2022) and Guido Lombardi (1936-2021) played a central role in the Italian underground film industry. Their careers began in the 1960s and have been extremely consistent despite the multiplicity and variety of their work, which ranged from activist and counter-information films and videos to socio-anthropological documentaries and experimental films. Theirs were works that display a 'critical use' of the audio-visual means, which they saw as a tool of investigation and political commitment.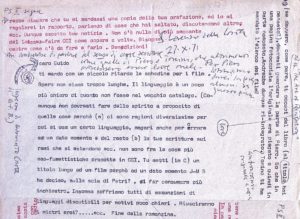 In May 2018, twenty-nine previously unpublished writings and a series of photographs belonging to the director, writer and screenwriter Umberto Lenzi were donated to the Centro Sperimentale di Cinematografia. The valuable bequest of a novel and various scriptments, treatments and screenplays supplemented the collection that was already in the library's possession as per legal deposit, providing film lovers and scholars with an exceptional documentation on the creative talent of the filmmaker. Lenzi's rich filmography, which includes sixty-five cinema and TV titles, highlights his taste and great culture, revealing a restless, unconventional and ironic nature. His first films include various genres of B movies, from adventure to swashbuckling, from peplum and spaghetty spy to sexy-giallo, but later on he became one of the most important representatives of the Italian crime genre.
Umberto Lenzi (1931-2017) – Tuscan director, screenwriter and writer, he made his debut behind the camera in 1956 with the short film/graduation essay at the Centro Sperimentale di Cinematografia, I ragazzi di Trastevere. In 1961 he directed his first feature film, the swashbuckler Le avventure di Mary Read (1961), which was followed by adventure films and reinterpretations of a few Salgari classics such as "Sandokan la tigre di Mompracen" (1963) and "I pirati della Malesia" (1964). In the following years he devoted himself to spy movies and to the war films "Attentato ai tre grandi (1967) and "La legione dei dannati" (1969). In 1966 he directed "Kriminal", inspired by a famous comic. In 1969 he began a long season of erotic-giallo, with the trilogy composed by "Orgasmo", "Così dolce… così perversa" (1969) and "Paranoia" (1970). From the 1970s on, alternating thrillers and Italian crime movies, he wrote some of the cult films of those genres: "Milano odia: la polizia non può sparare" (1974), "Napoli violenta" (1976), "Roma a mano armata" (1976) and "Il cinico, l'infame e il violento" (1977). During those years the director established an artistic fellowship with Tomas Milian, with whom he invented the character of "Er Monnezza" (who appears in "Il trucido e lo sbirro" and "La banda del gobbo", in 1976 and 1977 respectively). Since the early 1980s, with "Mangiati vivi!, the director dedicated himself to the theme of cannibalism: the most extreme of these films was "Cannibal Ferox" of 1981. By the end of the decade he returned to the thriller/horror genre, the last film being "Hornsby e Rodriguez – Sfida criminale" of 1992; "Sarajevo, inferno di fuoco", on the other hand, was released in 1996 for home video. Lenzi also wrote successful crime novels, such as Delitti a Cinecittà (2008), Terrore ad Harlem (2009), Scalera di sangue (2011), Roma assassina (2012), Il clan dei miserabili (2014), Cuore criminale (2015).
The collection was donated in 2012 and is made up of about 90 scripts, synopses and treatments.It includes a few quite interesting previously unreleased items, such as "L'uscita", the testimony of a 20-year convicted terrorist involved in the Moro case, which was accomplished with the support of Rai but was actually never broadcasted, and "Rubè", a project that Leto tried to fulfil for over 10 years and that he considered 'the best film on fascism'.
Marco Leto (1931-2016) – Italian director and scriptwriter. Alumnus of the Film Direction course, he later became professor of Television Direction at the Centro Sperimentale di Cinematografia from 1983 to 1988. His career in the film industry took off in the 50s, when he worked as assistant to Franco Rossi in "Il seduttore" (1954). Thereafter he was first and second assistant of many directors, including Mario Monicelli "Un eroe dei nostri tempi"(1957) and Florestano Vancini "La lunga notte del '43"(1960). His first experiences with film script-writing date to his collaboration with De Concini, when he wrote a few scenes for mythological films. Later on he wrote the script of "Un eroe del nostro tempo" (1960) by Sergio Capogna, "Violenza segreta" (1963) by Giorgio Moser, "I morti non si contano" (1968) by Rafael Romero Marchent, "Una pistola per cento bare" (1968) by Umberto Lenzi and "Cari genitori" (1973) by Enrico Mario Salerno. During the 60s he started working in TV productions, creating numerous successful series, such as "Il caso Lafarge" (1973), "Philo Vance" (1974), "Rosso veneziano" (1976), "I vecchi e i giovani" (1979) and "Quaderno proibit" (1980), and the TV films "La resa dei conti.  "Dal gran consiglio al processo di Verona" (1969), "Donnarumma all'assalto" (1972), "Una donna spezzata" (1988). He directed only a handful productions for the big screen: "La villeggiatura" (1973), "Al piacere di rivederla" (1976) and "A proposito di quella strana ragazza" (1989)
The collection that belonged to this eminent director and scholar  was donated by his children Flaminia and Francesco in 2015. It consists of 88 scripts; 10 press books; 5 magazine publications; 10 dissertation theses; 28 files with press clippings, letters (both sent and received) and miscellaneous documents concerning his role as a director of the Venice International Film Festival, films, unfinished projects, publishing projects, the honorary degree he was awarded, his lectures and his involvement in cultural institutions, festivals and conventions; and, finally, more than 700 books from his personal library. The collection of correspondence, which features Lizzani's drafts and personal mail, is extremely remarkable – especially when we consider the letters he exchanged with leading figures such as: Rudolf Arnheim, Luciano Bianciardi, Alessandro Blasetti, Italo Calvino, Federico Fellini, Glauco Pellegrini, Vasco Pratolini, Leonardo Sciascia and Cesare Zavattini. There is also a full list of the documents that were donated to the Indiana University in Bloomington and that are now housed in the local Lilly Library, , which provides scholars with a comprehensive understanding of the Lizzani archive by collating it with the documents that are now in the possession of the CSC.
Carlo Lizzani (Rome 1922-2013) was one of the grand masters of Italian cinema,a director, essayist, scholar, historian, actor, scriptwriter, producer, political activist and professor. Through his films he brought history to the big screen and interpreted the events and customs of twentieth-century Italy with great critical thinking. He started out as a scriptwriter, actor and assistant director to some of the greatest talents of our film industry, such as Giuseppe De Santis and Roberto Rossellini, and then moved on to documentaries. His first films are "Achtung! Banditi!" (1951), which won him the Best Director award at the Karloy Vary festival, and "Cronache di poveri amanti" (1954), which received the jury's award at the Cannes Festival and the Nastro d'Argento. His most relevant films are: "Il gobbo" (1960),"Il processo di Verona"(1963), "Svegliati e uccidi" (1966), "Banditi a Milano"(1968), "Crazy Joe" (1974), "Mussolini ultimo atto"(1974), "Storie di vita e malavita"(1975), "San Babila ore 20: un delitto inutile"(1976), "Fontamara" (1977), "Mamma Ebe"(1985), "Caro Gorbaciov"(1988), "Cattiva" (1991), "Celluloide" (1995), "Hotel Meina"(2007). Over the years he held the position of director of the Venice Film Festival (1979-1982), professor of film directing and screenwriting at the Centro sperimentale di cinematografia (1976-78 and 1988-89), president of the ANAC (National Film Authors Association) of Rome (1994-2002), president of the scientific Committee of the National Film Museum of Turin (2000-02).
In May 2019, Loy's partner Elvira Cartney donated the documents and photographs from his archive that were in her possession. There are about one hundred items, including scriptments, treatments and scripts, theatre scripts, pressbooks, a file comprising unpublished writings and a TV series pitch, a small set of correspondence primarily concerning the film "Le quattro giornate di Napoli", three press releases of his films, articles on his activities and interviews, his 1946 graduation thesis in philosophy on Bergson, an administrative file featuring letters of agreements of both produced and unmade films, two drawings. The photographs (about three hundred) can be viewed in the photographic archives of the Cineteca Nazionale.
Nanni Loy, born Giovanni Loy (1929-1995), Italian film director. After graduating from the Centro Sperimentale di Cinematografia in Rome in 1949, he began a thorough training as director's assistant, especially with Luigi Zampa, before making his debut with two feature-length comedy films, "Parola di Ladro" (1957) and "Il marito" (1958), co-directed with Gianni Puccini, and then shooting "L'audace colpo dei soliti ignoti" (1959), a sequel to Mario Monicelli's masterpiece. During the 1960s his best works, namely "Un giorno da leoni" (1961) and "Le quattro giornate di Napoli" (1962), were both about the Italian Resistance, but he actually took the centre stage with "Specchio segreto" on TV, the first Italian candid camera. After that experience, he went back to film-making with: " Detenuto in attesa di giudizio" (1971), "Sistemo l'America e torno" (1973), "Café Express" (1980), "Mi manda Picone" (1984), "Amici miei – Atto III" (1985, another sequel to a Monicelli film), "Scugnizzi" (1989), "Pacco, doppio pacco e contropaccotto" (1993).
The collection, which was donated, consists of over 100 documents. Next to a small number of books there is a significant archive of original synopses and screenplays, documents and press releases on the films "Anni ribelli" and "Riconciliati"; private mail received by the director mainly from the Argentinean actress and theatre director Inda Ledesma (in the cast of "Anni ribelli") and the Argentinean actress Gloria Ugarte; written speeches and articles on the participation in festivals and conferences; documents regarding the tango compositions used by Polizzi in films, television and theatre with original translations by Daniel Tedeschi; documents about her theatrical activity, in particular reviews and a (handwritten) notebook on "Ardente pazienza" and programmes for Jorge Salcedo's Company; articles written by Rosalia Polizzi and press releases on documentaries and television programmes edited by her; administrative documents of Paranà Film studios, founded in 1974 and whose sole administrator was Rosalia Polizzi.
Rosalia Polizzi (1934-2011) – Italian-Argentinean director and screenwriter. Polizzi was born in Buenos Aires where she also completed her studies. She moved to Rome in 1961 where she attended the Film Direction Course at the Centro Sperimentale di Cinematografia (Experimental Film Centre). She began collaborating with the Italian state broadcaster RAI in 1965 and also worked in the film industry as a script supervisor (with Bruno Corbucci and Luigi Zampa). During the 1960s and 70s she worked for Unitelefilm, a film company linked to the PCI (Italian Communist Party). She shot numerous documentaries and investigative reports focusing on social or welfare topics, where she often focused on the portrayal of female figures. She also worked in theatre and in 1989 directed "Ardente pazienza", based on a text by Antonio Skarmeta. Her first film, "Anni ribelli" (1994) was shot in Buenos Aires, while her second feature film, "Riconciliati"(2001), deals with themes connected to the so-called years of lead in Italy. 
The collection, which was donated to the Library in 2015, includes 73 items such as synopses, treatments and scripts; about 50 letters; 8 magazine publications; press reviews and documentation related to his films; articles on his film and writing career as well as his own writings, some of which, dating from the late 1940s, have never been released.
The collection, which was donated to the Library by his wife Diana Donatella in 2015, includes 73 items such as synopses, treatments and scripts; about 50 work letters; 8 magazine publications; press reviews and documentation related to his films; articles on his film and writing career; his own writings, some of which, dating from the late 1940s, had never been released. Giulio Questi (1924 – 2014) – Film director, scriptwriter and actor. He fought alongside other partisans in the Bergamo mountains and, after graduating with a Humanities degree, he became a journalist and literary editor of Bergamo's «La cittadella» and published his own novels on «Il Politecnico», directed by Elio Vittorini. He moved on to the film industry and made a name for himself as one of the most talented documentary film-makers of the 1950s. In Rome he became assistant director to Valerio Zurlini, Ettore Giannini and Francesco Rosi and acted in "La Dolce vita" (1960) by Federico Fellini and "Signore & Signori" (1966) by Pietro Germi. He directed three films: "Se sei vivo spara" (1967), a remarkable spaghetti-western movie; "La morte ha fatto l'uovo" (1968), an atypical thriller, and the gothic "Arcana" (1972). From 1979 he worked as a TV director: he was behind the camera of, among others, "L'uomo della sabbia" (1975), "Vampirismus" (1982) and "Il segno del commando" (1989). Among his short movies there are eight productions ranging from horror to fantasy that are worth mentioning: "Doctor Schizo" and "Mister Phrenic" (2002), "Lettera da Salamanca" and "Tatatatango" (2003), "Mysterium Noctis" (2004), "Repressione in città" and "Vacanze con Alice" (2005), "Visitors" (2006). Finally, we must mention, among his many writings, 15 short stories about the Resistenza, published in Uomini e Comandanti (Einaudi, 2014).
The collection was donated by the director in 2009 and complemented by additional material during 2011. It consists of 346 documents including monographs, synopses, treatments, scripts, theses, press books, DVDs and folders of mail writtenand received by the director, press releases (newspaper articles written by or about Folco Quilici), promotional brochures and invitations to book and film premieres during film conferences or festivals.
Folco Quilici (1930-2018) – Italian film and television documentary filmmaker and writer. He attended the Film Direction Course at the Centro Sperimentale di Cinematografia (Experimental Film Centre). His first feature film was "Sesto continente" (winner of the Special Award at the Venice Film Festival in 1954) and the book with the same name won the Marzotto Prize. In the years that followed he released short films and feature films that have shaped history, including "L'ultimo paradiso" (1956), "Dagli Appennini alle Ande" (1959), "Ti-Koyo e il suo pescecane" (1961), "Oceano" (1971), "Fratello mare" (1974), "Il Dio sotto la pelle" (1974) and "Cacciatori di navi" (1991). He switched between documentary films and working as a journalist, leaving a mark with his investigative reports and special reports on environment and civilization. From 1966 to 1978 he shot fourteen documentaries called"L'Italia vista dal cielo" supported by books, which were illustrated, written and filmed with the contribution of some of the leading names in contemporary Italian literature. From 1971 to 1989 he directed and curated the Geo TV programme on the Italian state network RAI 3. He has published numerous novels including "Cielo verde" (1997). In 2002 he was awarded the NEOS prize by the Travel Journalists' Association for his activity as a writer. From February 2003 to June 2006 he was President of ICRAM (Central Institute for Applied Marine Research), a public institution of marine research supervised by the Ministry for the Environment and Protection of the Territory and the Sea.
The archive consists of a variety of material belonging to the director Roberto Rossellini and is of great value because it sheds more light on his theories and creative work. It includes 45 screenplays, not all of which were made in films; a number of typescripts, such as unpublished texts, notes, first drafts and different versions of essays, which amount to a total of about 1800 pages; 9 themed features; various documents, including diplomas and certificates; about 350 letters and telegrams; books, magazines and film press-books (about 1,200 items) .The collection of correspondence is not exclusively related to Roberto Rossellini, but also to other members of his family: his son Renzo, his first wife Marcella De Marchis and Ingrid Bergman, his second wife. It is arranged in chronological order, from 1946 to 1978. There are signed letters from many important figures, such as Jean Cocteau, Sergio Amidei, Marlene Dietrich, Frank Capra, Jean Renoir, Vittorio Gassman, Umberto II of Savoia and Amintore Fanfani.
Roberto Rossellini (1906-1977) – Director and President of CSC from 1969 to 1974.
The Furio Scarpelli Collection, dedicated to one of the most important writers of Italian-style comedy, was donated by his sons Giacomo and Matteo to the Luigi Chiarini Library and the Centro Studi Commedia all'Italiana in 2019. The purpose of the donation to the Library of the Centro Sperimentale di Cinematografia is the preservation and promotion of the work of the talented screenwriter, journalist and portraitist of lifestyle trends in twentieth-century Italy. It includes around sixty screenplays, treatments and original writings, both in printed and digital format (the digitisation was carried out by the Centro Studi Commedia all'Italiana in Castiglioncello).
Furio Scarpelli (1919 – 2010) – son of Filiberto Scarpelli, the founder of the Roman satirical magazine "Il travaso delle idee", he grew up perfecting his natural talent for witty illustrations and writing. Before the war, he began working as an illustrator for "Marc'Aurelio", a well-known satirical magazine, where he met Agenore Incrocci, with whom he formed the legendary duo Age & Scarpelli. Starting from the 1940s, they were the minds behind Totò's first successes and, later on, of Italian-style comedy productions, from its beginnings (I soliti ignoti, 1958, and La grande guerra, 1959, by Mario Monicelli; Tutti a casa, 1960, by Luigi Comencini), through its golden age (I compagni, by Monicelli, 1963; I mostri by Dino Risi, 1963; Sedotta e abbandonata by Pietro Germi, 1964; L'armata Brancaleone, 1966 and Brancaleone alle crociate, 1970 by Monicelli) and to its wane (C'eravamo tanto amati, 1974, and La terrazza, 1980, by Ettore Scola). They worked side by side with the leading directors who brought the genre to the peak of its success, portraying the contradictions of the characters of post-boom Italy. Again in partnership with Age, he wrote the screenplay for Il buono, il brutto, il cattivo by Sergio Leone (1966). Once his collaboration with Age came to an end, Scarpelli continued to work independently with Ettore Scola and with young authors and directors, thus leading to the first films by Francesca Archibugi and Paolo Virzì; during this time he built a close relationship with the young screenwriters of Anac (Associazione Nazionali Autori Cinematografici) and the Centro Sperimentale di Cinematografia, where Scarpelli would go on to teach for years.
This contains 76 screenplays from the archive of the "Solinas Prize", an award instituted in honour of the famous Italian screenwriter. The collection includes the screenplays written by the finalists and prize-winners from 1986 onwards.
The Solinas Prize is the most important Italian prize for original screenplays. It was established in 1985 by Felice Laudadio at La Maddalena, and is dedicated to the screenwriterFranco Solinas.
The collection was donated in 2014 by his sister Eugenia and consists of letters and postcards the director received from friends and notable people like Vittorio Gassman, Ermanno Olmi, Mario Serandrei, Goffredo Lombardo, Raffaele La Capria, Silvano Agosti, and documents containing marks of respect, such as Antonioni's, who calls him "our very own Jacques Tati". The collection also includes dissertation theses and three film-related files with administrative documents, account books, letters, research material, press reviews and press books.
Although his talent was renowned among the most important personalities of Italian culture, Augusto Tretti (Verona, 1924-2013), one of Italy's most inventive directors, produced only three films, "La legge della tromba"(1961), "Il potere"(1972) and "Alcool"(1980), and the medium-length film "Mediatori e carrozze"(1985) over his 25-year-long career. The corpus of documents that makes up the collection named after him shows the complex vicissitudes related to film production and distribution that the director had to face, as well as the actual complications that came with shooting films both "far from Rome" and removed from the system's mentality. Some of the most interesting documents are those related to his unexecuted projects, such as the script of "La lite", written with Tonino Guerra, and the multi-episode film "Duemila inquieto" (or "Avvenire inquieto"), especially the episode "La battaglia di Lissa", which started out as a feature film.
The collection was donated by the director himself in 2014-2015 and is made up of over 300 items: more than 100 books about film and photography, 28 photography magazines, 13 folders of documents related to his works, projects, their respective press reviews and letters.
Giorgio Turi (1925-2015) – Director of documentaries and experimental films, cinematographer. He graduated in chemistry and took up photography quite early on during his career. He came in contact with the New American Cinema Group and worked as cinematographer for the movie "Goodbye in the mirror" directed by Storm De Hirsch (1964). He was a researcher at the Pedagogical Institute of the Teacher Training College of the University of Rome, carried out film-related research for the CNR (National Research Council), taught photography at the State Art Institute of Rome and contributed to Rai's experimental programmes. A creator of experimental movies (some of which were filmed in collaboration with Roberto Capanna), he was a member of the Indipendent Cinema Cooperative. He filmed many documentaries on science, anthropology and pedagogy.