Actors
Archival and Bibliographic Collections – Luigi Charini Library
The collection consists of a small amount of documents – gifted by his heirs in 2017 – dating from the late Thirties to the Seventies. An album and four press review folders collect the articles which were published throughout his long career in theatre, cinema and television, as actor as well as director; another folder includes articles about his personal life and the interviews he granted to several newspapers and magazines. Nine unpublished film scriptments, four TV concepts and one letter from 1941 by Ermete Zacconi inviting him to join his company are some of the most interesting documents.
Leonardo Cortese (1916-1984) – Actor and director, he graduated from the National Academy of Dramatic Arts in 1938 and debuted soon after on the theatre stage and on the big screen. He starred in several films, such as: "La vedova" (1938), "Cavalleria rusticana" (1939), "Una romantica avventura" (1940), "Sissignora" (1941), "Un garibaldino al convento" (1942), "Addio amore" (1943), "Piume al vento" (1950). Behind the camera, he directed: "Chi è di scena (1951), "Art. 519 Codice penale" (1952),"Violenza sul lago" (1954).Worth mentioning, among his major theatrical successes: Stefano by J. Devaland Marius by Pagnol (1943); Le mani sporche by Sartre (1949); Tasso's Aminta and Torquato Tasso by Goethe (1954). He was also very prolific in the TV industry. After hosting the talent show "Tutti improvvisatori", created by A. G. Bragaglia (1958), he achieved his first great TV success directing "La figlia del capitano", an adaptation by F. Palmieri and himself from A. Puškin, broadcasted in 1965; his fortune continued with the original story "Luisa Sanfelice" (1966) by U. Pirro and V. Talarico. He made his debut in the crime genre with the series "La donna di quadri" by M. Casacci and A. Ciambricco, about the adventures of  Lieutenant Sheridan (from 19th April 1968, five episodes).
In 2020 the library received a donation of a series of documents from the archives of Fabio Garriba, actor, screenwriter, writer, poet and teacher. This includes scriptments, scripts and notebooks filled with handwritten annotations, musings, poems, stories, letters, reports and lectures from his teaching days.
Fabio Garriba (1944 –  2016) – As a first-year student of architecture he was already a member of Le Corbusier's closest circle, who – on account of his keen interest in film – informed him about the existence of the Centro Sperimentale di Cinematografia in Rome. "I parenti tutti" from 1967, his film direction graduation essay at the Centro Sperimentale, which he also starred in, deals with the themes of death and immortality. Before committing himself to his career as an actor, he worked as assistant director to: De Sica (for the segment "Il leone" of the film "Le coppie", 1970), Carmelo Bene ("Capricci", 1969), Pasolini ("Porcile", 1969), Bertolucci ("Partner", 1968) and Visconti (auditions for the CSC). He starred as the main character in both films by his twin brother Mario and over the course of his career he appeared in films such as: "Anni" by Ustun Barista (1967), "Mai visto un fiume? "by Liu Fong Kong (1967),  "Vento dell'est" by Jean-Luc Godard (1968), "Agostino d'Ippona" by Roberto Rossellini (1972), "Sbatti il mostro in prima pagina" by Marco Bellocchio (1972), "La via dei babbuini" by Luigi Magni (1974), "Novecento" by Bernardo Bertolucci (1976), "Maschio femmina fiore frutto" by Ruggero Miti (1979), "Ammazzare il tempo" by Mimmo Rafele (1979), "La terrazza" by Ettore Scola (1980).
The Fondazione's bookshop sells the first monograph Fabio e Mario Garriba, i gemelli terribili del cinema italiano by Domenico Monetti and Luca Pallanch, published in 2016.
In 2020 the Centro Sperimentale di Cinematografia acquired the collection belonging to the actor Amedeo Nazzari, stage name of Amedeo Carlo Leone Buffa, a donation by his daughter, the actress Evelina Nazzari. It includes thirteen theatre scripts, a screenplay, over eight hundred press clippings from leading Italian and foreign newspapers – mostly selected by the Eco della Stampa and Unitalia film press offices – magazine issues, monographs, and a small corpus of correspondence and other documents, including an authentic letter from actor and director Leonardo Cortese commenting on the audience's and critics' appreciation of their television drama "La figlia del capitano" (1965). The press review, which covers the years from 1936 to 1980, features film reviews, intriguing anecdotes about Nazzari's life, columns on the countless awards he received, interviews, and articles about his wife Irene Genna's 1950s films and about Evelina Nazzari at the very beginning of her career.
Italian actor Amedeo Carlo Leone Buffa (1907-1979), known under the stage name Amedeo Nazzari, debuted in 1926 with the Fortitudo amateur dramatic company and was subsequently cast by the most important theatre companies of the time, thus becoming a successful prose actor. His first performance in motion pictures was in 1935, when his theatre partner Elsa Merlini invited him to join her in the film "Ginevra degli Almieri", directed by Guido Brignone, though soon after he returned to work in theatre. He rose to stardom after playing the lead role in the film "Cavalleria" (1936), assigned to him thanks to Anna Magnani, who was, at the time, Goffredo Alessandrini's wife, and the following performances in the films: "Luciano Serra, pilota" (1938); "Caravaggio, il pittore maledetto" (1941) – which won him the Coppa Volpi in Venice; "La cena delle beffe" (Alessandro Blasetti, 1942). His success during the Fascist regime did not benefit him in the post-war period but, after a work stint abroad, he was called back by producers Carlo Ponti and Dino De Laurentiis to star in "Il lupo della Sila" (Duilio Coletti, 1949). In the 1950s he was once again swept away by fame thanks to his involvement in the "popular neo-realist" genre, alongside Yvonne Sanson, through a series of films directed by Raffaello Matarazzo. He also appeared in well-known movies such as "Processo alla città" (Luigi Zampa, 1952), "Il brigante di Tacca del Lupo" (Pietro Germi, 1952), "La fiammata" (Alessandro Blasetti, 1952), "Un marito per Anna Zaccheo" (Giuseppe De Santis, 1953), "Le notti di Cabiria" (Federico Fellini, 1957) and others. His film activity decreased in the 1960s, when he became more involved in television with the TV series "La figlia del capitano" (Leonardo Cortese, 1965), "La cena delle beffe" (Guglielmo Morandi, 1965), "La donna di cuori" (Leonardo Cortese, 1969), the TV drama "Rebecca" (Eros Macchi, 1963), as well as hosting the variety show "Gran Premio" (1970-1973) and appearing in commercials for Carosello (1970-1973). His roles in the foreign films "Le clan des siciliens" (Julien Duviver, 1969) and "The Valachi Papers" (Joe Valachi – I segreti di Cosa Nostra, Terence Young, 1972) were also significant. His last films were "Nina" (Vincent Minnelli, 1976) and "Melodrammamore" (Maurizio Costanzo, 1978).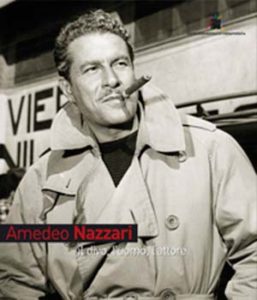 The archive of the multifaceted  actor, director, screenwriter, radio television host and lyricist Luciano Salce, declared of particularly important historical interest by the Archival and  Bibliographic Superintendence of Lazio, was donated by his son Emanuele Timothy Salce to the Luigi Chiarini Library of the Experimental Cinematography Centre Foundation in 2019, to be preserved and freely accessible to all scholars, researchers and curious users.The fund is divided into series and sub-series covering a chronological period from 1935 to 1987. Below we point out the twelve series from the inventory of the archival fund indicative of his prolific production and his works:  Writings by Luciano Salce; Catalogue of subjects, scripts, films and stories; Subjects and treatments of Salce; Subjects and stories of other authors; Scripts; Screenplays; Radio activity; Television activities; Correspondence; Reviews and curricula; Photographic documentation; Printed documentation.
Luciano Salce (1922  –1989) – Actor, director, screenwriter, radio and television host, lyricist, central character to reconstruct the history of Italian culture of the twentieth century,  with a lucid look and the desecralling force of irony he told  the  vices of our country. Among the most famous films he directed, we remember:  Il federale  (1961), La voglia matta  (1962),  Le ore dell'amore  (1963)  Basta guardarla  (1970),  L'anatra all'arancia  (1975),  Fantozzi  (1975), Il secondo tragico Fantozzi  (1976). Also fundamental are his debuts in the world of theater first alongside actors such as Vittorio Gassman, his partner in the Academy of Dramatic Art Silvio D'Amico, then with the establishment of the company of the Teatro dei Gobbi (with Alberto Bonucci, Vittorio Caprioli and then Franca Valeri), an example of satirical cabaret, participation in the Variety Studio Uno, the conduct of radio programs:  I malalingua and Blackout.
Film and theater actress Lilia Silvi's (1936-2013) archive, which was donated to the Centro Sperimentale di Cinematografia by her children in 2022, features a substantial corpus of remarkable documents, including: a hundred letters from admirers; the screenplay and lobby card of Jean Boyer's comedy film Il diavolo va in collegio (1943), in which she stars opposite Leonardo Cortese; the script of Aldo De Benedetti's comedy Non ti conosco più, staged in 1945 with his Company; the pressbooks of Nunzio Malasomma's films Dopo divorzieremo (1940) and Scampolo (1941), also starring actor Amedeo Nazzari; more than 200 articles reviewing her films and performances, as well as regarding her public and private life and interviews she gave in newspapers; two Best Actress awards and the 78-rpm record of Ferdinando Maria Poggioli's La bisbetica domata (1942). The photo collection, containing over one hundred private, stage and set prints, is housed in the Foundation's Photographic Archive.
Lilia Silvi, pseudonym of Silvana Musitelli (Rome, December 23rd, 1921 – Nettuno, July 27th, 2013), first rose to fame in the 1940s, when she was cast as leading actress in a number of successful films – many of which co-starring Amedeo Nazzari – in which she played the character of the carefree girl. Her portrayal of innocence, liveliness and independence captivated critics and audiences alike, quickly establishing her as one of the most acclaimed and popular actresses of the Telefoni Bianchi or deco films era. After attending the dance school at the Rome Opera House, she made her debut in 1935 in Salvatore Fernando Ramponi's film Il cantico della terra. She also appeared in Mario Camerini's 1937 film Il signor Max, but it was in 1939 in Max Neufeld's Assenza ingiustificata, with the role of Luisa, Vera's (Alida Valli) schoolmate, that she finally achieved great success. Some of her best-known films include: Giù il sipario (1940) by Raffaello Matarazzo, Dopo divorzieremo (1940) and Scampolo (1940) by Nunzio Malasomma, Violette nei capelli (1941) by Carlo Ludovico Bragaglia, La bisbetica domata (1942) by Ferdinando Mario Poggioli, and Giorni felici (1942) by Giorgio Franciolini. In 2011 she gave an excellent performance in the documentary film In arte Lilia Silvi by Mimmo Verdesca, which won the Nastro d'Argento for Best Cinema Documentary in 2012.
This corpus of documents belonging to Marisa Solinas was donated to the CSC by her son David Panone in 2019. The collection, now preserved in the Library, includes: the screenplay of the sixth episode of the television miniseries "Quo vadis?" directed by Franco Rossi, which aired in 1985 on RAI; the revised screenplay of "Sindrome Veneziana" (directed by Carlo U. Quinterio, 1991); eight files of press clippings and documentation; eight files of magazine issues; and thirty-nine press books. The large collection of press clippings (numbering 1255) – compiled by Solinas herself – which chronicles her career as an actress, singer and model, has been organised by subject and listed chronologically in twenty-one files. It features interviews and articles about the films she starred in, her appearances in radio and television programmes, her performances in live shows (theatre, cabaret, operetta) and her public and private life. The documentation also includes notes and memos of various kinds, autographs, resumes, event invitations. Many items required extensive research in order to establish a timeline.
Marisa Anna Solinas (1939-2019) – Actress, singer and model, she was born in Genoa to a Tuscan mother and a Sardinian father. Her fifty-year long career boasts an exceptional portfolio of roles in cinema, theatre, television, operetta, photo novels and music. She starred in more than 50 films, both Italian and foreign, including: Boccaccio '70 (episode Renzo e Luciana by Mario Monicelli, 1961), La commare secca (Bernardo Bertolucci, 1962), Il padre di famiglia (Nanni Loy, 1967), Blindman (Ferdinando Baldi, 1971), L'arbitro (Luigi Filippo D'Amico, 1974), I due carabinieri (Carlo Verdone, 1984), Tutti dentro (Alberto Sordi, 1984), Almost Blue (Alex Infascelli, 2000). Her most outstanding television work includes the series Quo Vadis (by Franco Rossi, 1985), Tutti gli uomini sono uguali (Alessandro Capone, 1997) and Una donna, tre vite (episode Lucia by Pasquale Pozzessere, 2005). As for theatre, her most well-known appearances include: Sogno di una notte di mezza estate (directed by Beppe Menegatti, 1963), Pedro de Urde Malas (directed by Attilio Colonnello, 1966), La commedia del Decamerone (directed by Mario Amendola and Bruno Corbucci, 1972). She also worked as a professional singer under major record labels, such as Emi-Voce del Padrone, Fonit cetra, Rca, with a repertoire ranging from pop music to operetta. In 1963 she interpreted a number of pieces by the most important music authors in the world, such as: Ennio Morricone, who wrote a song for her (Ora è solo mia); Gilbert Becaud, who chose her to sing the Italian versions of his hits Je T'Aime (Io T'Amo) and Mon Arbre (Il mio albero); Stelvio Cipriani, Giorgio Calabrese, Giacomo Dell'Orso, Giuseppe Cassia and Elvio Monti. From 1966 to 1972 she appeared in several music shows. She was a guest on the following RAI programmes: Musicalissimo, Alla fiera del mago Zurlì, Alle nove della sera, Domenica In, Alle nove della sera. On Radio Uno she hosted the music programme Il topo di disco. She appeared in several operettas, including: Il paese dei campanelli (1976), Cin-Ci-Là (1976), La Principessa della Czarda (1977), Al cavallino bianco (1977-1979).
The actress' archive was donated to CSC by her children between November 2015 and July 2016. It is made up of: letters, work-related documents, original film and television screenplays, theatre scripts, photographs, press books, theatre programmes, magazine issues and cut-outs, and personal and advertising graphic material. Specifically, it includes 7 files concerning her job, featuring job offers, contracts and work plans; 23 files containing press reviews and roughly one hundred magazine issues (1937-2006); 169 scripts and screenplays; 12 files with letters, cards and postcards from her fans (1937-2006). Her personal mail collection (1930-2006) features a file of letters she sent and 28 files of letters she received. The collection is catalogued and available for consultation; the photographs are filed and available for consultation at the Photographic Archive.
Alida Valli (1921-2006) – cinema, theatre and television actress, beloved and admired by the audience, Alida Valli worked in famous national and international film productions that shaped the history of cinema; she played extremely different roles, such as carefree young girls in Telefoni Bianchi-style comedies or tormented and unsettling characters, oedipal mothers or old women. Over the course of her long career, which began in 1936, she starred in memorable films such as  "Mannon Lescaut" (1940) by Carmine Gallone, "Piccolo mondo antico" (1941) and "Eugenia Grandet"(1946) by Mario Soldati (her performance in the former won her the National Film Award as best actress, while the latter earned her the Nastro d'argento), "The Paradine Case" (1947) by Alfred Hitchcock, "The Third Man" (1949) by Carol Reed, "Senso" (1954) by Luchino Visconti (which won her the Grolla d'oro Award as best actress), "Il grido" (1957) by Michelangelo Antonioni, "Edipo re" (1967) by Pier Paolo Pasolini, "La strategia del ragno" (1970), "Novecento" (1976) and "Berlinguer ti voglio bene" (1977) by Bernardo Bertolucci, "Suspiria" (1977) by Dario Argento. Among other awards, she won a David as best actress in "La caduta degli angeli ribelli" (1981) by Marco Tullio Giordana, the David Honorary Award in 1991 and the Leone d'oro Honorary Award in 1997. In 1956 she started acting in theatre productions with Giancarlo Zagni's acting company. Since 1959 she also worked in television, starring in TV dramas, comedies and series.